London Historians' Monthly Pub Meet

A London Historians Event
We have an informal gathering of socialising on the first Wednesday of every month. From 6:30 pm. All are welcome.
We meet upstairs at the Bishops Finger, in Smithfield. NEW VENUE FROM APRIL 2019.
We have about 30 attendees most months and you can come as early or late as you like, we're always still there at Last Orders. All welcome, not just LH members.
Meetings for all of 2019 are as follows: Wed 2 January; Wed 6 February; Wed 6 March; Wed 3 April; Wed 1 May; Wed 5 June; Wed 3 July; Wed 7 August; Wed 4 September; Wed 2 October; Wed 6 November; Wed 4 December.
London Transport Museum Poster and Art Collection

A London Historians Event
Tues 25 June 1:30pm
London Transport Museum Acton Depot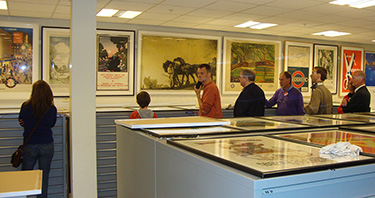 An opportunity to visit the renowned London Transport Poster and Art Collection which is stored at the London Transport Museum's 'Depot' at Acton. The guided tour will look at the history of the Underground poster, the commercial strategies behind them, the artists who created them, and the way the posters often take a side-ways glance at London's economic, social and cultural history. A visit to the art store will give the chance to see the original art work by several famous British artists not all of which ended up on the Tube.
London Historians and their guests only.
History in the Pub: The London Book Industry

A London Historians Event
Wed 26 June, 18.30 – 21.00h
Sir Christopher Hatton Pub, Holborn.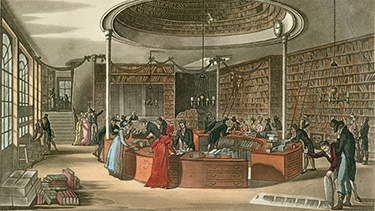 Learn about London history over a pint with friends after work!
Our next in the History in the Pub series will examine the book trade in London from its earliest beginnings in and around Old St Paul's Churchyard to some of the big brand names of the 20th Century. We'll find out how the book retail business was transformed during the 19th Century. We'll have four speakers, a speed quiz, and the usual fun and prizes.
Dr Johnson's House: Curator Led Tour, with Punch!

A London Historians Event
Thur 4 July, 18.00 – 20.00h
Dr Johnson's House, Gough Square, EC1N 7RA.
This building is the only surviving home of Dr Samuel Johnson and, importantly, where he lived while compiling the Dictionary of the English Language (1755). We will see a first edition of this famous book along with other rare Johnson artefacts.
A personal tour by the curator Celine McDaid (LH Member) will be followed by a short talk by Professor Sheila Cavanagh (LH Member) about her latest research on the 20C history of the building.
A glass of punch and socialising will precede the event.
LH Members: £22. Others: £25.
Charlton House and Severndroog Castle
Fri 5 July 12.00h – 13.30h, Shooters Hill
This double bubble outing involves guided tours of 30 – 45 minutes each to Charlton House, a magnificent early-Jacobean country house; and Severndroog Castle, a bonkers late 18C folly with magnificent views from the top of Shooters Hill.
London Historians Members: £15; non-Members: £20.
Book Lovers' St James's

A London Historians Event
Tues 9 July, 17.30h
Burington House to Trafalgar Square.
Guided Walk, led by Anthony Davis.
We'll walk around some locations in St James's associated with writers, publishers, actors and bibliophiles, featuring some old books from the buildings we see. We start near the place where Samuel Pepys set his wig alight; hear about Oscar Wilde's green carnation and Nell Gwyn's oranges; discover how Dickens got his whiskers and visit the only square in London designed by a poet. This walk starts in Piccadilly and finishes near to Trafalgar Square.
In the Pipeline...
Look out for these going live soon… diary items in the meantime.
Sunday 1 September
Awayday to Croydon. Tour of the old Croydon aerodrome followed by a guided tour of the town by a LH Blue Badge Guide, including a ride on the trams.
Thursday 5 September.
The London Historians Annual Lecture 2019.
Carlo Gatti's Birthday
27/28 July 2019, London Canal Museum.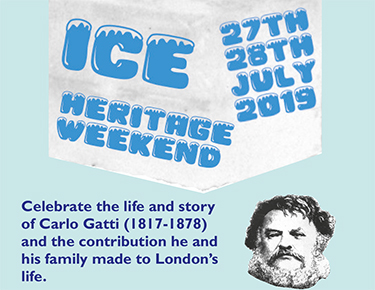 Cake, ice cream, cream tea, music hall, ice wll visits, boat rides!
Supported by the Swiss Embassy.
Abram Games: The Art of Persuasion
National Army Museum, Chelsea
6 April – 24 November 2019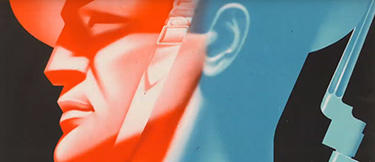 This major exhibition explores the life and legacy of the iconic designer Abram Games, focusing on his time as 'Official War Poster Artist' during the Second World War. The exhibition includes posters from the National Army Museum's collection alongside objects on loan from the family of Abram Games.
Free and Affordable Lectures
Several institutions host wonderful history lectures which are either free or cost very little.
The venerable Gresham College holds free lectures at its HQ in Barnards Inn, Holborn and also at Museum of London. Details.
Guildhall Library has free lunchtime lectures and £5 evening ones, which include a glass of wine. Details