London Historians' Monthly Pub Meet

A London Historians Event
We have an informal gathering of socialising on the first Wednesday of every month. From 6:30 pm. All are welcome.
Currently we meet upstairs at the Hoop and Grapes, in Farringdon.
We have about 30 attendees most months and you can come as early or late as you like, we're always still there at Last Orders. All welcome, not just LH members.
Meetings for all of 2015 are as follows: Wed 7 January; Wed 4 February; Wed 4 March; Wed 1 April; Wed 6 May; Wed 3 June; Wed 1 July; Wed 5 August; Wed 2 September; Wed 7 October; Wed 4 November; Wed 2 December.
Monthly Supper Evening

A London Historians Event – NEW
Tuesday 15 September, 6 to 9 pm
Haz Restaurant (next to St Paul's Tube Station)
New Supper Initiative: we are trying out a Supper / Drinks evening, which may develop, depending on popularity. Come along for a drink or meal, any time after 6 and before 9 p.m. LH Member Chris West will be our host and will be there at tables to the left as you go in. The place is huge, so it doesn't matter if only a few or lots of people turn up.
Food: Varied menu- one course around £8, good 2 course inclusive £12.
Haz Restaurant.
London Month of the Dead
3 October – 1 November, various venues.
This event is organised by Antique Beat led by LH Member Stephen Coates who also runs the wonderful Salon for the City.
Talks, walks and workshops throughout the month on the topic of death in the capital. Death of humans, death of animals, it's all here. Many venues, including cemeteries, of course.
More info and booking
Literary Footprints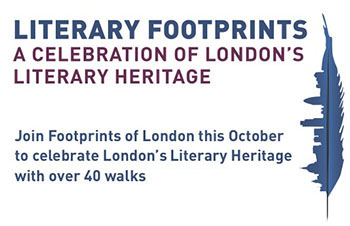 The month of October by our friends at Footprints for London.
Note that LH Members get 15% discount on all of these tours.
Season ticket covering all walks is £40.
Programme and booking.
The Great Fire of Westminster
Guided walks. All Thursdays in October: 1, 8, 15, 22, 29
Westminster tube (district, circle, jubilee lines), outside exit 4
6.30pm, takes 1 hr 40 mins


Everyone's heard about The Great Fire of London, but who's heard of the Great Fire of Westminster? An epic blaze in 1834 which destroyed the Houses of Parliament! Parliament is advising that the current building will require nearly £6bn over 30 years to repair. And during the month of the anniversary of the fire which took place on 16 October 1834, Trails of the City brings you the story of that apocalyptic night. We walk around the streets and onto the bridge where thousands gawped at the destruction in horror and awe. An event marked equally by farce as by acts of heroism, the fire took place on the cusp of the Victorian age. And arising from the flames… the iconic, though somewhat dilapidated, Houses of Parliament we know today.
Guides Richard (LH Member) and Steve
Price: £9.00 Adult; £7.00 concessions and LH Members.
Pay on the day.
Samuel Pepys: Plague, Fire and Revolution
20 Nov 2015 – 28 March 2016.
National Maritime Museum, Greenwich.


Samuel Pepys is your fly-on-the-wall guide to Stuart London. Pepys was one of the most colourful characters of the 17th century, and witness to the great events that shaped Stuart Britain, vividly brought to life in his famous diaries. He was a mastermind, a gossip, a socialite and a lover of music, theatre, fine living – and women!
The exhibition will feature 200 paintings and objects from museums, galleries and private collections across Britain and beyond.
Supporting the main exhibition there will also be talks and other related events.
London Historians Members: Contact us reference 10% Member discount on all ancillary events, e.g. talks.