London Historians' Monthly Pub Meet

A London Historians Event
We have an informal gathering of socialising on the first Wednesday of every month. From 6:30 pm. All are welcome.
We meet upstairs at the Hoop and Grapes, in Farringdon.
We have about 30 attendees most months and you can come as early or late as you like, we're always still there at Last Orders. All welcome, not just LH members.
Meetings for all of 2018 are as follows: Wed 3 January; Wed 7 February; Wed 7 March; Wed 4 April; Wed 2 May; Wed 6 June; Wed 4 July; Wed 1 August; Wed 5 September; Wed 3 October; Wed 7 November; Wed 5 December.
Semi-Detached Holden
SORRY, THIS EVENT IS NOW FULLY-BOOKED

A London Historians Event
Sat 24 March. 12:30h approx 2.5 hours.
Starting at Oakwood Underground Station.
Architectural tour.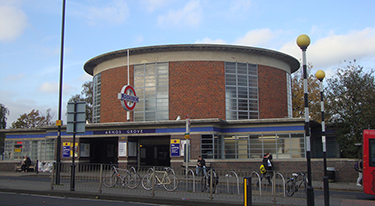 Starting at Oakwood station, we call at Southgate and Arnos Grove. We look at the origin and use of the elements of the style Charles Holden developed and how they were incorporated into the approach of 'fitness for purpose' in the design of an Underground station advocated by Frank Pick.
£5. London Historians members only. Join London Historians.
Tour of Apothecaries' Hall

A London Historians Event
Apothecaries' Hall, Blackfriars Lane.
Monday 26 March, 11:00 – 12:30h
Join us to celebrate the 400th year of the Worchipful Society of Apothecaries' founding Charter from King James I in 1617 as we tour its Grade I listed Jacobean hall.
LH Members: £15. Non-members: £17.50
London Transport Museum Poster and Art Collection

A London Historians Event
Tues 27 March 1:30pm
London Transport Museum Acton Depot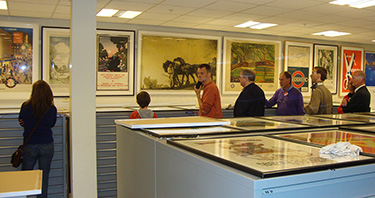 An opportunity to visit the renowned London Transport Poster and Art Collection which is stored at the London Transport Museum's 'Depot' at Acton. The guided tour will look at the history of the Underground poster, the commercial strategies behind them, the artists who created them, and the way the posters often take a side-ways glance at London's economic, social and cultural history. A visit to the art store will give the chance to see the original art work by several famous British artists not all of which ended up on the Tube.
London Historians and their guests only.
Tour of Orleans House Gallery

A London Historians Event
Friday 20 April 11.00h – 12.00h
Orleans House Gallery, Twickenham.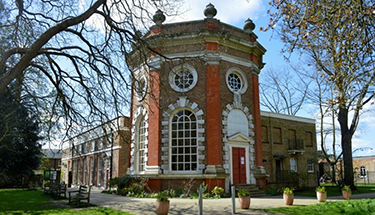 Orleans House Gallery is a surviving part of a larger estate designed in the baroque style by architect James Gibbs in 1716. It has recently been restored to its 1750 condition with HLF support. Today it is the home of the art collection of the Borough of Richmond upon Thames. Our tour will comprise the history of the estate, James Gibbs and the art collection itself including the current exhibition.
LH Members £5, non-Members £8. Booking fee applies.
Tour of JMW Turner's House

A London Historians Event
Sandycombe Lodge, Twickenham.
Fri 20 April 12.30h for approx 1 hour.
Turner's House, Sandycombe Lodge was built in 1813 to the designs of the great landscape painter JMW Turner as a quiet retreat from the pressure of the London art world. It provided the setting for gatherings of his closest friends, notably the architect John Soane, whose influence on Turner is evident in many details of this modest and graceful home. As such the house provides a unique insight into the character of JMW Turner and the spirit of his work. The tour will be led by Catherine Parry-Wingfield, the chair of Turner's House Board of Trustees and an art historian with an specialism in JMW Turner. She has been instrumental in the restoration of Sandycombe Lodge from the very beginning and her knowledge on the subject is unparalleled.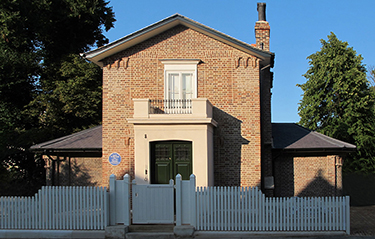 Limited places. LH Members only.
Join London Historians.
The Museum of Army Music

A London Historians Event
Fri 27 April 11.00 – 12.30
Kneller Hall, Twickenham

The museum records the history of Military music and the Royal school of Military music.Our tour will explain the use of music in battle and the ceremonial use in state events, such as Trooping the Colour and changing the guard etc. Event begins with tea/coffee and biscuits.
LH Members: £8.50. Non-members: £11.00.
Tour of Abney Park Cemetery

A London Historians Event
Abney Park Cemetery, Stoke Newington.
Saturday 5 May. 15.00 to 16.45h.
One of the' Magnificent Seven', this non-conformist cemetery is the final resting place of hymnologist Isaac Watts, founder of the Salvation Army, William Booth, Frank C. Bostock, the Lion Tamer and Margaret Graham, Britain's first female hot air balloonist among many others.
£8 London Historians members, £11 the rest. Booking fee applies.
Visit: The Brooking National Collection

A London Historians Event
Wed 23 May, 14.00h. Cranleigh, near Guildford.
Brooking founder and architectural historian Charles Brooking has been rescuing architectural detail for decades from some of the nation's most historic buildings, many of them in London. These include St Paul's, 55 Broadway, Tower of London, Windsor Castle, Britannic House, Somerset House, Buckingham Palace, Brook House to name just some. Architects and builders include Lutyens, Cubitt, the Adam brothers, Soane, James Burton, Charles Holden and more. The museum explores the history of architectural detail design and making and items you will see are doors, windows, stained glass, stairs, fireplaces, hinges, knobs, latches, mouldings, ironmongery. Every possible thing, in fact, you can imagine in fine historic buildings.
Our tour will be led by Charles Brooking himself, a fellow member of London Historians.
£15 + booking fee.
London Historians members only.
London Historians Big Quiz 2018

A London Historians Event
Tue 29 May, 18:30h
Sir Christopher Hatton pub, Holborn

Save the date! More news and booking anon!
Tracing London Ancestors

A London Historians Event
Thur 2 August, 18:00 – 20:00h
Society of Genealogists
Many LH members are also members of the Society, including its Chairman. This visit will comprise a behind-the-scenes tour, and a talk about the rudiments of Genealogy.
Save the date! More news and booking in a few months' time!
Criminal Lives, 1780-1925: Punishing Old Bailey Convicts
Free Exhibition – London Metropolitan Archives
11 Dec 2017 – 16 May 2018
From hanging, branding and whipping the response to crime shifted to transportation and imprisonment. By the nineteenth century, judges could choose between two contrasting forms of punishments: exile and forced labour in Australia, or incarceration in strictly controlled 'reformatory' prisons at home. Which was more effective? This exhibition traces the impact of these punishments on individual lives, following the men, women and children convicted in London from the crime scenes and trials through their experiences of punishment, and on to their subsequent lives.
Free and Affordable Lectures
Several institutions host wonderful history lectures which are either free or cost very little.
The National Archives, a short walk from Kew Gardens Station, have free talks on most Thursday afternoons. They also have other low cost ticket events. Detail
The venerable Gresham College holds free lectures at its HQ in Barnards Inn, Holborn and also at Museum of London. Details.
Guildhall Library has free lunchtime lectures and £5 evening ones, which include a glass of wine. Details