London Historians' Monthly Pub Meet

A London Historians Event
We have an informal gathering of socialising on the first Wednesday of every month. From 6:30 pm. All are welcome.
We meet upstairs at the Hoop and Grapes, in Farringdon.
We have about 30 attendees most months and you can come as early or late as you like, we're always still there at Last Orders. All welcome, not just LH members.
Meetings for all of 2019 are as follows: Wed 2 January; Wed 6 February; Wed 6 March; Wed 3 April; Wed 1 May; Wed 5 June; Wed 3 July; Wed 7 August; Wed 4 September; Wed 2 October; Wed 6 November; Wed 4 December.
A Blessed Tyndale Christmas
17 December 12.30 – 13.30h
St Mary Abchurch, Abchurch Lane, EC4 (tube: Bank)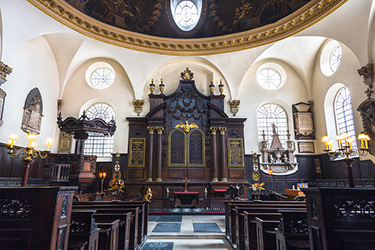 Enjoy this traditional carol service with the English Chamber Choir and hosted by the Tyndale Society.
Please express your interest on our Facebook Group page.
Free and Affordable Lectures
Several institutions host wonderful history lectures which are either free or cost very little.
The National Archives, a short walk from Kew Gardens Station, have free talks on most Thursday afternoons. They also have other low cost ticket events. Detail
The venerable Gresham College holds free lectures at its HQ in Barnards Inn, Holborn and also at Museum of London. Details.
Guildhall Library has free lunchtime lectures and £5 evening ones, which include a glass of wine. Details