London Historians' Monthly Pub Meet

A London Historians Event
We have an informal gathering of socialising on the first Wednesday of every month. From 6:30 pm. All are welcome.
We meet upstairs at the Hoop and Grapes, in Farringdon.
We have about 30 attendees most months and you can come as early or late as you like, we're always still there at Last Orders. All welcome, not just LH members.
Meetings for all of 2018 are as follows: Wed 3 January; Wed 7 February; Wed 7 March; Wed 4 April; Wed 2 May; Wed 6 June; Wed 4 July; Wed 1 August; Wed 5 September; Wed 3 October; Wed 7 November; Wed 5 December.
Free Tour of the Parliamentary Archives
SORRY, THIS EVENT IS NOW FULLY BOOKED

A London Historians Event
Monday 5 March 2018 11:00am and 14:30h
The Parliamentary Archives are based in their own purpose-built buidling, the Victoria Tower. A one hour-long tour comprising a visit to the Well and Original Act Room on the first floor of the Victoria Tower but with the addition of a document display – tailored to your group usually held in our lecture room on the 8th floor of the building.
Maximum places: 16.
London Historians members only.
FREE
Please email admin@londonhistorians.org. to get the event url to book your place. Put 'Victoria Tower' in the Subject Line, thanks.
Architectural Marmite: 8 iconic London buildings you'll love or hate
The London Society and London Historians present.
Debate
Tue 13 March. 18:30 – 21:00
Sir Christopher Hatton pub, 4 Leather Lane, EC1N 7RA
Join us in the basement bar of the Sir Christopher Hatton pub for a drink and a lively discussion, as eight speakers put their case for their favourite buildings, or suggest why famous landmarks are overdue an appointment with the wrecker's ball. MC: Matt Brown.
£10. LH and LS Members: £5. Use password from your LH monthly newsletter.
More information and to book.
The Stations of Leslie Green

A London Historians Event
20 March 12:30, approx 2.5 hours
starting at Holloway Road Station.
Architectural tour.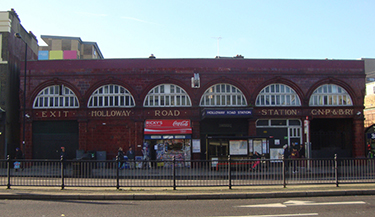 The tour, starting at Holloway Road, looks at four of Green's stations, looking at both the features common to all the stations, and the detail variations which make each station unique. Finally, we look at the changes made to these stations over the intervening century, constantly changing to adapt to modern circumstances.
£5. London Historians members only. Join London Historians.
Semi-Detached Holden
SORRY, THIS EVENT IS NOW FULLY-BOOKED

A London Historians Event
Sat 24 March. 12:30h approx 2.5 hours.
Starting at Oakwood Underground Station.
Architectural tour.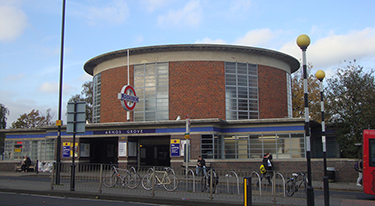 Starting at Oakwood station, we call at Southgate and Arnos Grove. We look at the origin and use of the elements of the style Charles Holden developed and how they were incorporated into the approach of 'fitness for purpose' in the design of an Underground station advocated by Frank Pick.
£5. London Historians members only. Join London Historians.
Tour of Apothecaries' Hall

A London Historians Event
Apothecaries' Hall, Blackfriars Lane.
Monday 26 March, 11:00 – 12:30h
Join us to celebrate the 400th year of the Worchipful Society of Apothecaries' founding Charter from King James I in 1617 as we tour its Grade I listed Jacobean hall.
LH Members: £15. Non-members: £17.50
London Transport Museum Poster and Art Collection

A London Historians Event
Tues 27 March 1:30pm
London Transport Museum Acton Depot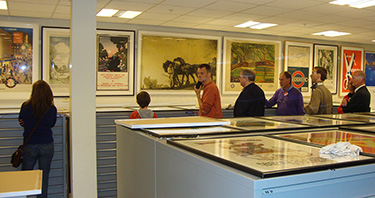 An opportunity to visit the renowned London Transport Poster and Art Collection which is stored at the London Transport Museum's 'Depot' at Acton. The guided tour will look at the history of the Underground poster, the commercial strategies behind them, the artists who created them, and the way the posters often take a side-ways glance at London's economic, social and cultural history. A visit to the art store will give the chance to see the original art work by several famous British artists not all of which ended up on the Tube.
London Historians and their guests only.
London Historians Big Quiz 2018

A London Historians Event
Tue 29 May, 18:30h
Sir Christopher Hatton pub, Holborn

Save the date! More news and booking anon!
Tracing London Ancestors

A London Historians Event
Thur 2 August, 18:00 – 20:00h
Society of Genealogists
Many LH members are also members of the Society, including its Chairman. This visit will comprise a behind-the-scenes tour, and a talk about the rudiments of Genealogy.
Save the date! More news and booking in a few months' time!
Criminal Lives, 1780-1925: Punishing Old Bailey Convicts
Free Exhibition – London Metropolitan Archives
11 Dec 2017 – 16 May 2018
From hanging, branding and whipping the response to crime shifted to transportation and imprisonment. By the nineteenth century, judges could choose between two contrasting forms of punishments: exile and forced labour in Australia, or incarceration in strictly controlled 'reformatory' prisons at home. Which was more effective? This exhibition traces the impact of these punishments on individual lives, following the men, women and children convicted in London from the crime scenes and trials through their experiences of punishment, and on to their subsequent lives.
LASS 2018: Anglo-Saxon London
Saturday, 10 March 2018, 14:00 – 18:30, Woburn Suite, Senate House
Topics:
John Clark (UCL, Museum of London), Built by the Skill of the Ancient Romans: Anglo-Saxon Responses to Roman London
Sue Hirst (Museum of London Archaeology), The Archaeology of Early and Middle Anglo-Saxon London
Richard North (UCL), King Cnut and the Garrison City of London
Michael Bintley (Canterbury), London and Other Cities in Anglo-Saxon Texts
Includes: tea/coffee and wine reception.
£20
More info and booking.
Free and Affordable Lectures
Several institutions host wonderful history lectures which are either free or cost very little.
The National Archives, a short walk from Kew Gardens Station, have free talks on most Thursday afternoons. They also have other low cost ticket events. Detail
The venerable Gresham College holds free lectures at its HQ in Barnards Inn, Holborn and also at Museum of London. Details.
Guildhall Library has free lunchtime lectures and £5 evening ones, which include a glass of wine. Details