London Historians' Monthly Pub Meet

A London Historians Event
We have an informal gathering of socialising on the first Wednesday of every month. From 6:30 pm. All are welcome.
Currently we meet upstairs at the Hoop and Grapes, in Farringdon.
We have about 30 attendees most months and you can come as early or late as you like, we're always still there at Last Orders. All welcome, not just LH members.
Meetings for all of 2015 are as follows: Wed 7 January; Wed 4 February; Wed 4 March; Wed 1 April; Wed 6 May; Wed 3 June; Wed 1 July; Wed 5 August; Wed 2 September; Wed 7 October; Wed 4 November; Wed 2 December.
Tour of Tallow Chandlers' Hall
SORRY, THIS EVENT IS NOW FULLY-BOOKED

A London Historians Event
Monday 30 November, 14:00 – 15:30
4 Dowgate Hill, London , EC4R 2SH
One of the lucky livery halls which survived the Blitz. The current hall, dating from 1672, is Grade 1 listed. The Tallow Chandlers Company was formed in about 1300 to regulate oils, ointments, lubricants and fat-based preservatives and to manage candle making using tallow (animal fats). King Edward IV granted the company its coat of arms in 1456, and full livery status in 1462.
Our tour will be led by the Beadle and will be followed by tea/coffee and biscuits
LH Members £10, guests £12, non-members £15
Meeting Samuel Pepys

A London Historians Event
Monday 7 December 11:00 – 15:00
St Olave Hart Street and National Maritime Museum Greenwich

Today we get better acquainted with the prominent 17C Londoner and diarist, Samuel Pepys, who became Secretary for the Admiralty and President of the Royal Society.
This two part event comprises a guided tour of Pepys's parish church, St Olave Hart Street near the Tower, which survived the Great Fire; and a curator-led tour of the new exhibition at the National Maritime Museum – Plague, Fire and Revolution (see further below). We'll travel between on the Thames Clipper.
London Historians Members: £16 + Eventbrite fee.
A Trafalgar Square Travesty
Series of guided walks for homeless charity.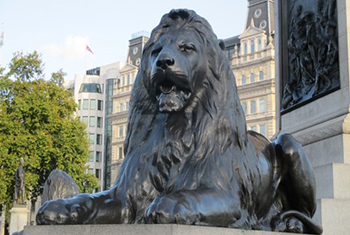 Meeting point: Outside Charing Cross mainline station and tube (Northern and Bakerloo lines) in forecourt of Charing Cross hotel and by the Eleanor Cross
Dates and time: 2.30pm, Sat 12th, Thurs 17th, Sun 20th, Tues 29th December, Sunday 3rd January Prices: £9.00 Adult, £7.00 concession
One of the most famous town squares in the world. But just how well do you know Trafalgar Square? Its construction was slow and dogged by controversial incidents; it is adorned by three of the most unpopular British kings and some rather dodgy, little known generals; the square's history is also marked by polluting pigeons and political protests!
This is a one-hour, tongue-in-cheek walk around Trafalgar Square. All proceeds will go to the Connection at St Martin-in-the-Fields whose fine edifice has been a constant presence over the Square. The Connection does fantastic work to help get homeless people back on their feet.
More info: www.trailsofthecity.co.uk and www.footprintsoflondon.com
Christmas Cheer at the Ancient House
SORRY, THIS EVENT IS NOW FULLY-BOOKED

A London Historians Event
Saturday 12 December 13:00 – 16:00.


Another very special LH event, this is an exploration of old Walthamstow culminating in a very rare opportunity to visit the pre-Tudor Ancient House, dating from 1430! That's pretty old. Once there, we'll share some glasses of port and classy snacks, while LH Member Lissa Chapman tells us about the history of the building. But first, we'll visit the Vestry House Museum and then, led by another local historian and LH Member Joanna Moncrieff, do a local historical walk around the immediate area of the house, checking out almshouses, St Mary's church and other sites of interest.
Maximum places: 15. Members only. Tickets: £28.
In the first instance, secure your place by email.
Tour of Saddlers' Hall

A London Historians Event
Friday 8 January, 13:45 – £15:45
Saddlers' Hall, 40 Gutter Lane, London EC2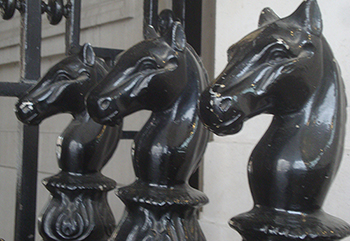 Beadle-led tour of the home of the Worshipful Company of Saddlers, a City livery company which has been in existence since the late 12C and had a Royal Charter since 1395 (Richard II). Tea/coffee and biscuits at the end of the tour.
Proceeds go towards the Saddlers' Company's charity.
Please note: The formerly saintly Eventbrite have recently changed their fees and hid that cost, making more work for us: sorry.
LH Members £8 + £1.19 fee.
Guest of LH Member £10 + £1.24 fee
non-Members £15 + £1.37 fee
For more info and to book.
The Georgian Dining Academy
Thursday 10 December 2015. 19:00 – 22:30.
Simpson's Tavern chop house in Cornhill, City of London
The fifth occasion of this increasingly popular event, which goes from strength to strength. Our hostesses, Miss B and Miss Kitty Pridden (both LH Members) welcome you to a candlelit evening of delicious food, sparkling wit, beguiling performances in an atmosphere full of the bonhomie of a 1757 establishment especially opened for the evening.
GDA #1 The Pictures (by Andrea Liu, LH Member)
GDA #1 The Movie (by M "Kubrick" Paterson, LH Member).
£68 to include welcome punch cocktail and glass of wine with your meal. Book tickets.
London Historians Member special: £55. Also avoids booking fee, so over £17 saving. Email Miss B direct to arrange. (she knows who the Members are!)
The Crime Museum Uncovered
Museum of London
9 October 2015 – 10 April 2016.
Never-before-seen objects from the Metropolitan Police's Crime Museum go on public display in this major exhibition. Since its establishment by serving officers in the mid-1870s the Crime Museum has previously only been open to police professionals and invited guests. Now, using original evidence from this extraordinary collection, now real-life case files are unlocked to take you on an uneasy journey through some of the UK's most notorious crimes from Dr Crippen to the Krays, the Great Train Robbery to the Millennium Dome diamond heist.
Tickets from £10 adults.
More information and booking.
Samuel Pepys: Plague, Fire and Revolution
20 Nov 2015 – 28 March 2016.
National Maritime Museum, Greenwich.


Samuel Pepys is your fly-on-the-wall guide to Stuart London. Pepys was one of the most colourful characters of the 17th century, and witness to the great events that shaped Stuart Britain, vividly brought to life in his famous diaries. He was a mastermind, a gossip, a socialite and a lover of music, theatre, fine living – and women!
The exhibition will feature 200 paintings and objects from museums, galleries and private collections across Britain and beyond.
Supporting the main exhibition there will also be talks and other related events.
London Historians Members: Contact us reference 10% Member discount on all ancillary events, e.g. talks.