London Historians' Monthly Pub Meet

A London Historians Event
We have an informal gathering of socialising on the first Wednesday of every month. From 6:30 pm. All are welcome.
Currently we meet upstairs at the Hoop and Grapes, in Farringdon.
We have about 30 attendees most months and you can come as early or late as you like, we're always still there at Last Orders. All welcome, not just LH members.
Meetings for all of 2017 are as follows: Wed 4 January; Wed 1 February; Wed 1 March; Wed 5 April; Wed 3 May; Wed 7 June; Wed 5 July; Wed 2 August; Wed 6 September; Wed 4 October; Wed 1 November; Wed 6 December.
London Scottish Regiment and Museum

A London Historians Event
Friday 10 March, 14:30h.
Horseferry Road, SW1.
This territorial regiment was founded in the mid 19C, fought in both World Wars, earned three Victoria Crosses, and still serves today as part of the London Regiment. Not routinely open to the publc, the drill hall and museum are the original home of the regiment. We'll be having a curator-led tour.
LH Members: £9.50
More information and to book.
The Georgian Dining Academy
OPENING DINING EVENT OF 2017
Thursday 9 March 2017. 19:00 – 22:30.
Historic Simpson's Tavern in Cornhill, City of London
The latest date of this increasingly popular event, which goes from strength to strength. Our hostesses, Miss B and Miss Kitty Pridden (both LH Members) welcome you to a candlelit evening of delicious food, sparkling wit, beguiling performances in an atmosphere full of the bonhomie of a 1757 establishment especially opened for the evening.
GDA #1 The Pictures (by Andrea Liu, LH Member)
GDA #1 The Movie (by M "Kubrick" Paterson, LH Member).
GDA is £73 to include welcome punch cocktail and glass of wine with your meal. Book tickets.
London Historians Member special: £60. Also avoids booking fee, so over £17 saving. Email Miss B direct to arrange. (she knows who the Members are!)
History in the Pub: Pocahontas in London

A London Historians Event
Tuesday 21 March. 18:30 – 21:00.
Sir Christopher Hatton, Leather Lane, Holborn.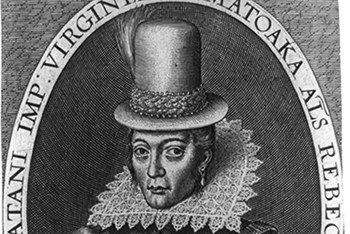 This day marks the 400th anniversary of Pocahontas's funeral in Gravesend. She died onboard the ship which was taking her and her English husband John Rolfe back to America. They lived in the London area during 1616 – 17. Pocahontas, known under her English name Rebecca, was presented to the king and queen. We commemorate her life and times with an evening of talks, song and our usual speed quiz. Prizes.
LH Members: free. Non-members: £5.
Making Connections: West London History Conference
Saturday 25 March 2017. 10:00 – 16:30
University of West London, the Paragon, Boston Manor Road.
Sponsored by nine local history societies to the west of London.
Talks include: waggons, packhorses & stagecoaches; the postal service from 17th Century; a wealthy family's travels and transport; writing, printing and advertising; the impact of the new Great West Road; the rise of aviation in West London.
Tickets: £15 to include tea and coffee.
To book, please send a cheque made to West London Local History Conference to J. McNamara 31b Brook Road South, Brentford, TW8 0NN. Please include a stamped addressed envelope.
Society of Antiquaries of London: Private Tour

A London Historians Event
Mon 10 April, 10:00 – 12:00
Society of Antiquaries, Burlington House, Piccadilly.
Specialist guided tour of the rooms of this ancient historical institution, including one of the best medieval Royal portrait collections. Preceded by tea/coffee/biscuits.
LH Members: £12
More information and to book.
The Thin Veil of London

A London Historians Event
"Guided Walk through Bloomsbury and Holborn into Other Worlds!"
Thursday 6 April 18:00h – 20:00h
led by Rich Cochrane and Robert Kingham.
Inspired by the stories of Arthur Machen (1863-1947). The Thin Veil of London takes us on a journey into the silent corners of Holborn and Bloomsbury: It is a journey into the worlds of Faery and science, madness and ecstasy, and what Machen called the eternal beauty hidden beneath the crust of common and commonplace things; hidden and yet burning and glowing continually if you care to look with purged eyes.
LH Members £12;50. Non-members: £17:50
The London Historians Big Quiz

A London Historians Event
Tue 23 May. 18:30 – 21:00
The Sir Christopher Hatton, Leather Lane.
Introducing the inaugural London Historians annual quiz!
If you know your Westminster Abbey from your Westminster Cathedral, this is the night out for you to pit your knowledge against your fellow London history nuts.
Challenging but not impossible.
Compiled and presented by London's #1 quizmaster, Matt Brown.
Team Format.
Fab Prizes.
Handel: Water Music 300

Monday 17 July 18:00h – 22:00h
The Thames, leaving from Temple Pier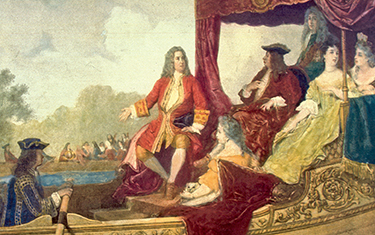 We commemorate the day and even the time of this Handel masterpiece, written to celebrate the new Hanoverian monarchy at the dawn of the Georgian era. Join us on board the Golden Jubilee where we'll eat, drink and enjoy a live orchestral recital of the Water Music and other Handel compositions. Georgian costume encouraged but not insisted on!
LH Members: £65. Non-members: £75
For more information and booking.
Presented by Georgian Dining Academy and London Historians with the kind support of Handel House.
Free and Affordable Lectures
Several institutions host wonderful history lectures which are either free or cost very little.
The National Archives, a short walk from Kew Gardens Station, have free talks on most Thursday afternoons. They also have other low cost ticket events. Detail
The venerable Gresham College holds free lectures at its HQ in Barnards Inn, Holborn and also at Museum of London. Details.
Guildhall Library has free lunchtime lectures and £5 evening ones, which include a glass of wine. Details