London Historians' Monthly Pub Meet
A London Historians Event
We have an informal gathering of socialising on the first Wednesday of every month. From 6:30 pm. All are welcome.
We meet upstairs at the Bishops Finger, in Smithfield. NEW VENUE FROM APRIL 2019.
We have about 30 attendees most months and you can come as early or late as you like, we're always still there at Last Orders. All welcome, not just LH members.
Meetings for all of 2019 are as follows: Wed 2 January; Wed 6 February; Wed 6 March; Wed 3 April; Wed 1 May; Wed 5 June; Wed 3 July; Wed 7 August; Wed 4 September; Wed 2 October; Wed 6 November; Wed 4 December.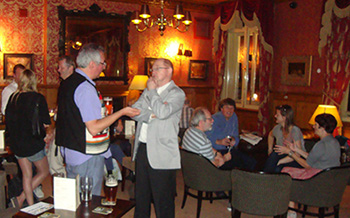 Bazalgette 200 Tour
A London Historians Event

28 March 2019, 09.30 – 16.30h.
All-day tour through London West to East.
28 March 1819. The birthday of London's greatest civil engineer: Sir Joseph Bazalgette. He built roads and bridges, embanked the Thames and most importantly, built the sewer which eradicated cholera outbreaks and is still serving us today.
On his bicentenary, we celebrate his life and work.
This all day event starts with a river trip from Putney to Westminster and ends at Abbey Mills pumping station, taking in many of the sites, buildings, structures and institutions touched by Bazalgette.
Our guide for the day is London Historians member Rob Smith.
LH Members: £22.+ fee.
More information and booking.
Fortnum & Mason Archivist's Talk
A London Historians Event
SORRY, THIS EVENT IS NOW FULLY-BOOKED
1 April 2019, 18.00 – 19.00h
Fortnum & Mason, 181 Piccadilly.
Fortnum & Mason. Founded 1707.
The 312-year history of Fortnum & Mason will be explored through a selection of items from the archive in the historic 5th Floor boardroom. From the Scotched Egg to Everest – all (well, some) will be revealed. Talk by Andrea Tanner, Company Archivist and LH Member.
£12.50 + fee
LH Members only.
Book your place.
History in the Pub: Beasts
A London Historians Event
Tues 30 April, doors open 6.30 pm
Sir Christopher Hatton, Holborn


Learn about the history of London with your friends over a pint after work! Eight speakers for eight minutes each addressing all aspects of furry, feathered and scaly Londoners, plus insects! They worked, they entertained, they were food, they were – and are – our companions. Mostly, through history, they were very poorly used. We aim to do them some justice. Plus quiz and prizes! MC for the evening is Matt Brown.
LH Members: FREE. Non-members: £6.
More information and to book your place.
George Orwell's London
A London Historians Event
Saturday 18 May. 10.00 – 12.00
Central London from Great Portland Street

Join us as we follow in Orwell's footsteps and explore how the life, sights and sounds of pre-war and wartime London had such a powerful influence on his work. Our tour begins at Great Portland Street Tube Station and takes us through well-known parts of the West End, before finishing at Rathbone Place (close to Oxford Street). Our tour leaders are London Historians member and Blue Badge guide David Poyson; and Orwell aficionado Diarmaid Ward.
Members: £12 Non-members: £17. both, + fee.
Horace Jones Bicentenary Lecture

20 May 6 – 8 pm
Guildhall Library, City of London.
Guildhall Library and London Historians join forces to celebrate the life and works of one of London's great architects on his actual birthday: Sir Horace Jones.
This talk by London Historians Member and City of London Guide Colin Davey will be followed by a wine reception. Limited places. £7 + fee.
More information and to book via Guidlhall Library.
London Historians Big Quiz 2019
A London Historians Event
Wed 29 May, 2019. 6.30pm
Sir Christopher Hatton, Holborn
Third fantastic year. Pit your knowledge against fellow Londoners and win our handsome trophy and other prizes. Quizmaster: Matt Brown.
Teams of up to four.
In the Pipeline...
Look out for these going live soon… diary items in the meantime.
3 May, 11am.
Tour of Chartered Accountants' Hall.
45 minute tour of this gem in the City of London led by LH Member Sharon Grant.
20 May
Horace Jones Bicentenary Tours of Tower Bridge
On the day of the architect's birthday, we have two tours of the bridge he designed, including one of the bascule chambers. For H & S reasons, maximum 12 per tour. London Historians Members only.
4 June, 6pm.
Tour of Brompton Cemetery
One of London's 'Great Seven' which received substantial restoration work last year. Tour includes the catacomb and is led by cemetery expert and volunteer Robert Stephenson.
18 June, 13.30.
Holden Goes West
A tour on the Uxbridge branch of the Piccadilly, exploring some classic Charles Holden Stations, with LTM volunteers David Burnell and Steve Leppert.
Maximum 10 attendees. Strictly London Historians members only.
25 June
Acton Depot Poster Tour.
See the original versions of classic posters from London Transport Museum's collection. Last chance to do this on at the old prices.
Free and Affordable Lectures
Several institutions host wonderful history lectures which are either free or cost very little.
The National Archives, a short walk from Kew Gardens Station, have free talks on most Thursday afternoons. They also have other low cost ticket events. Detail
The venerable Gresham College holds free lectures at its HQ in Barnards Inn, Holborn and also at Museum of London. Details.
Guildhall Library has free lunchtime lectures and £5 evening ones, which include a glass of wine. Details